Werth G2 Cart is designed for critical treatment areas and operating rooms. a power failure may result in life-threatening situations for patients. These facilities are critical to both nurses and patients. High hygienic standard and ergonomics are important factors in addition to electrical safety.
General Details
Technical Info
Documents
Related Products
General Details
Werth G2 cart can be equipped with one to two displays, a fully featured touch screen or without a display. The cart is also equipped with a medical power outlet that prevents accidental detachment of other equipment cords. The cart is designed in accordance with the EN60601-1 and EN60601-1-2 standards.
The powerful Medical-PC can run many programs smoothly at the same time.
Technical Info
MEDICAL-PC FOR THE CART
Medical-pc for hospital treatment areas (Caresuite, Clinisoft, CA)
ST540
Core i7-7700T & i7-6700T(Intell new features)
1x8GB RAM
120GB SSD
4xRS232
3 year warranty
No DVD-drive
2x LAN-port
OPERATING SYSTEM
Win 7, 8 ja 10
NETWORK ISOLATOR
Network isolator
SEAL SHIELD SSWKSV208ND KEYBOARD WHITE
Medical/hygiene keyboard washable, white,
scandic-lang
SEAL SHIELD STWM042 MEDICAL MOUSE WHITE
Medical/hygienic mouse, white, washable
MEDICAL-DISPLAY
MEDARIS-NEOVO MTX 22
22″ medical-touch screen
G2 CART
G2 cart for one display, medical outlet
Ergotron Cart
Ergotron StyleView no battery
ensemble
Basket
Attachments
Cable socks
Cables (DVI, HDMI, RJ-45)
Desinfect bottle holder
CART CABLE RAIL 52 CM
CART CABLE RAIL 38 CM
Extra compnents
Vesa 75/100
Cable sock
Card reader
7 port USB hub
USB light for keyboard
installation to Ergotron cart
Ergotron two display stand
Two display stand and installation to Ergotron cart
MEDICAL OUTLET
Medical outlet with 3m or 5m cord
Related Products
Werth Nurse cart has a very hygienic Panel-PC. WLAN antenna is high quality, so that access to networks are maintained under all circumstances.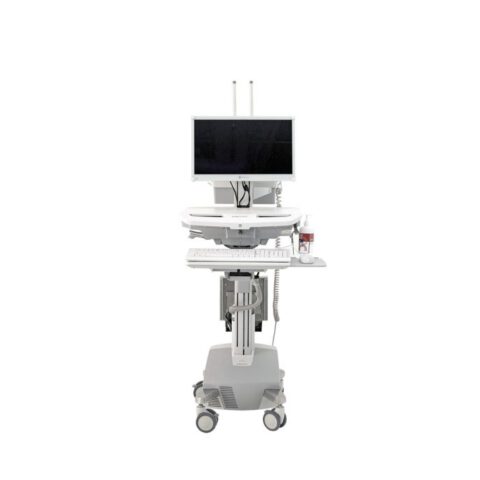 Avedon Hospital Cart has a powerful and fanless Medical-PC and a durable (rugged) Medical display. These are installed on the Ergotron cart cordless System which has a powerful battery that lasts more than 12 hours during the doctors' patient rounds.