General Details
Technical Info
Documents
Related Products
General Details
Nurses and practical nurses do a lot of documentation in their work. The paperless office is often only partially in use. There is often a queue to use the office machines and the office facilities are cramped. Werth nurse cart is the solution to this problem. A mobile workstation, that can be transported to the patient area. Medical Panel-PC has a small battery, which lasts about 45 minutes to a hour. You can move the cart to the desired location and set up an ergonomic workstation for yourself.
With the Nurse cart, there is also no more need for separate computers in the storage area. Orders are made 1 to 2 times a week, and the computer usage time in the storage area may be about 2 hours a week in total. The use of the nurse cart replace the high-priced computers that are in little use.
Technical Info
MEDICAL PANEL-PC
Medaris MP-622
TP-M i7 256 GB SSD
8 GB
3 Years warranty
BatteryLi-io (takuu 1 v)
Antena + cable
Wlan module
SEAL SHIELD SSWKSV208ND KEYBOARD WHITE
Medical/hygiene keyboard washable, white,
scandic-lang
SEAL SHIELD STWM042 MEDICAL HIIRI VALK
Medical/hygieniahiiri, valkoinen, pestävä
TARGUS 7 PORT USB DESKTOP HUB 1.8M CBL
USB-hub, 7 port, 1,8 m cable
OPERATING SYSTEM
Win 7, 8 ja 10
SCM IDENTIV UTRUST 2700R CONTACT SMART CARD READER
Card reader
NURSE CART
Ergotron
Ergotron Cart
Ergotron StyleView Cart batteriless
Desinfect bottle holder
Wlan rack
Attachment equipment
Longer power cable
Basket
Cable rail
ERGOTRON ADJUSTABLE KEYBOARD TRAY
97-827 Kit, SV LCD, Height Adjustable Keyboard Tray
Related Products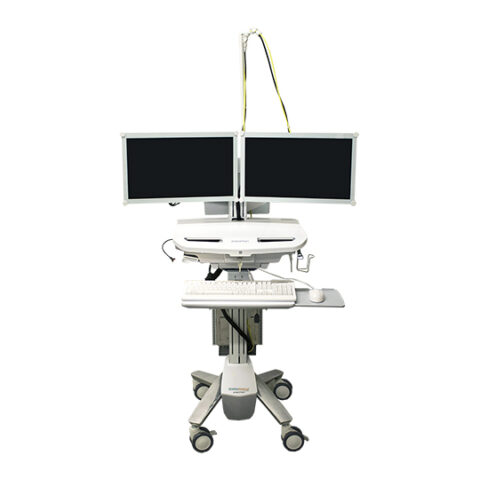 Werth G2 Cart is designed for critical treatment areas and operating rooms. a power failure may result in life-threatening situations for patients. These facilities are critical to both nurses and patients. High hygienic standard and ergonomics are important factors in addition to electrical safety.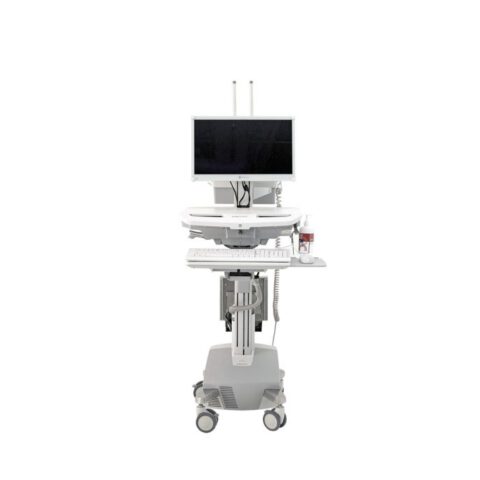 Avedon Hospital Cart has a powerful and fanless Medical-PC and a durable (rugged) Medical display. These are installed on the Ergotron cart cordless System which has a powerful battery that lasts more than 12 hours during the doctors' patient rounds.