The Medica 2017 is just around the corner and we cordially invite you to visit us at our Booth. On almost 30 m2, we will introduce several of world premieres, such as the XE-360 and PRO-600 Medical PCs, the MLI-6000 and MLI-6015 network isolators,
the SLG-4MED power strip and the new generation of ergonomic R'Care Carts with integrated 12-hour LiFe battery and up to 5 years warranty on battery, electronic and mechanic. Dirk Werth and Joerg Draeger are also directly on site as your contact persons and look forward to meet you.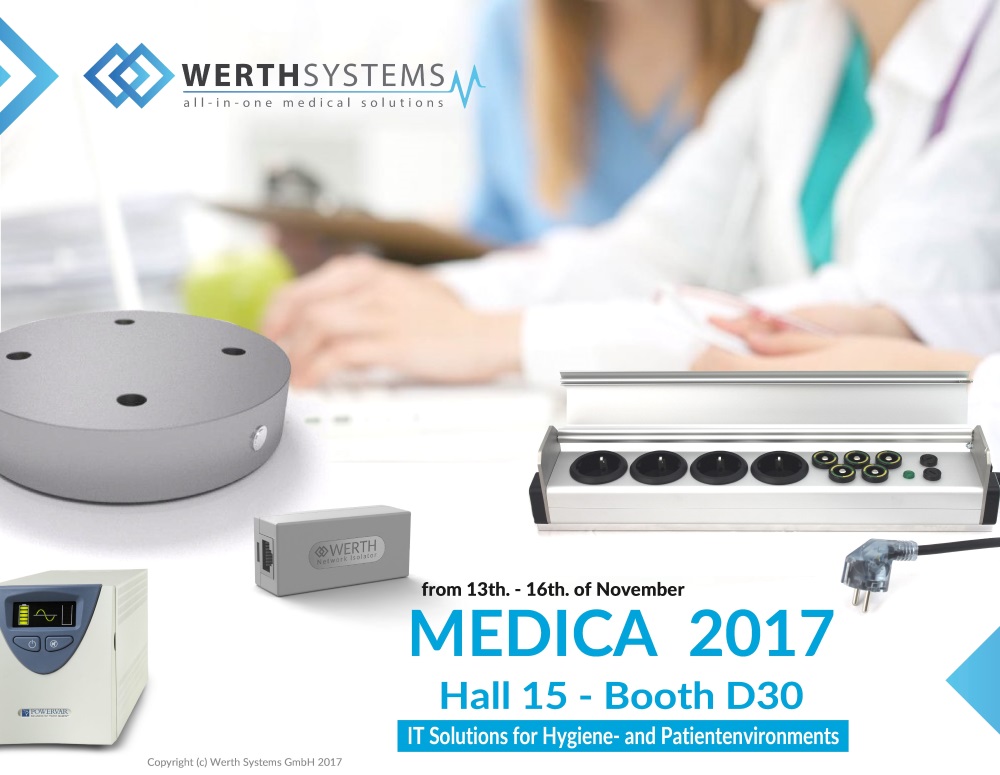 A real world premiere are also the Panel PCs of the series MP-6xx, with Intel processors of the 6th. generation, VPro support and 8 hours hot-swap batteries. As a partner of AG NEOVO, we are showing the new Medical Display line for the first time in Germany at Medica.
The MX series features a glass front and Dicom preset. The MD Series is a cost-minimizing solution that complies with medical standards. As German distribution partner for Ametek-Powervar, we provide the Powervar Security II Med UPS Series.
These UPS devices are available in sizes from 420VA to 3000VA and have a true sine wave output conditioning, especially for medical use. Another surprise awaits you with the presentation of the hygiene keyboards and mice.
A big glass dishwasher will demonstrate the quality of our keyboards. If you would like to make an appointment, please contact us by e-mail. E-Mail: info@werth-systems.de Do not miss the opportunity to inform yourself on site and to see our team again. We are looking forward to your visit.